Back to: CNA Test Prep Online

Follow along in your Skills Book, CNA Skills Study Guide 4th Edition Page 10 & 15.
The Care Plan and the CNA
Learning the skills is important…but not as important as learning what the care plan is all about! If you don't understand the care plan…you will fail the exam, even if you memorized how to do the skill. Watch this video to learn more about Care Plans and the CNA.
Click "Play" button to play video.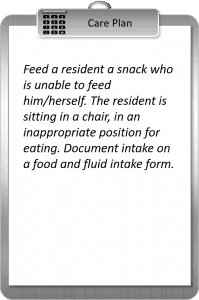 Do you understand why the care plan is important? Did you learn that it is all about the care plan, the whole care plan and nothing but the care plan??? This is super-important – because the test needs you to follow the care plan EXACTLY. Because the care plan is specific to THAT patient, doing skills a different way won't help THAT patient! If you understand this concept, the test will become super easy…all you have to do is read and follow directions!
Let's see if you learned the important points of this lesson! No pressure! If you don't score well, review the material and try again!
Our closed Facebook group is only for our students! Ask questions, get support, join instructor-led watch parties and more. Since this is a closed group, you must use code CNA4EVER when joining, so we know you are participant in the online CNA Test Prep program. Click on the group icon to the left or under the video screen on each lesson to go to the group. 
Join today for easy access as you view the lessons.
Do you see this "Mark Complete" button below? If you click on that at the end of each lesson, the program will keep track of where you are in the program, so you can pick right back up when you log back in later!  You can still review the lesson later, even if you mark it complete! Clicking this button will take you right to the next lesson! Give it a try!