Looking for a Healthcare career?
We can help make that happen!
4YourCNA  is the number one CNA Test Prep organization on YouTube! Over 16 million views…and counting!
You need to pass the test…we know how. Enough said.
Home, car, work, school, the park, the mall, at your mom's…where you are is where WE are. Our online classes go anywhere.
Click the link…yes, you see it up there…bright green…viewing the lessons will say way more than we ever could!
Follow us on social media
Our online test prep program is just right to help you prepare for the exam, whether you need a quick brush up, a full crash course or a comprehensive program to prepare you for the test – we've got it covered!
CNAs are in demand. Jobs are available right now. But you need certification to get those jobs. This program is real. It will REALLY  teach you what you need to know and we are here to support you as you learn. And in Florida, anyone can challenge the CNA exam with NO CLASSROOM OR CLINICAL experience required! So, what are you waiting for?
View our free lessons to see for yourself how easy and fun online learning can be. No boring reading here…take a look! Packed full of informative videos, classroom lectures, interactive activities and practice questions, you will be test ready in no time! The online course is fun, easy…and only $149!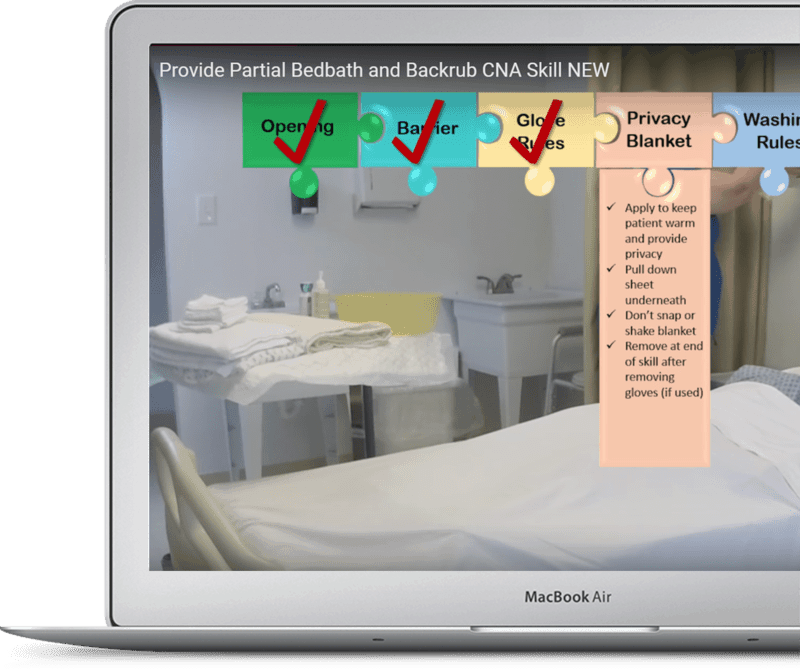 COVID has prompted a lot of changes in CNA training...changes that are here to stay.
Classroom training is outdated, inconvenient....and not always accurate.
We have spent a decade studying the test and we prove it.
It's time for a new way of learning. Your future starts here.
This course is specific to Prometric Testing. If you are taking the CNA exam through Prometric, we have the:
Testing care plans
Specific Testing Scenarios
Testing standards (checklists)
and Test Administration information
All right here, within this course!
If you are not in a Prometric Testing State, these lessons cover basic nursing standards that will prepare you for testing in ANY state!
If you are testing in AL, AR, CT, DE, FL, HI, ID, LA, MI, NM, NY, OK or TX…
Then this program is made specifically for YOU!
Don't miss this opportunity
Videos, interactive lessons, activities, test-specific content, and classroom lectures…all from the leader in CNA Training…you've got to see this to believe it.