Back to: CNA Test Prep Online

Follow along in your Skills Book, CNA Skills Study Guide 4th Edition Page 20-21.
Puzzle it Out: The Opening
Every skill starts the same way…and every step counts. The order is important, too! Watch this video to see the steps required for the opening, then practice it yourself using the activity below.
Click the "Play" button to play the video.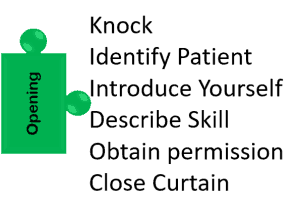 Did you learn the steps? Every step counts – they are ALL important. The best place to practice this is in your bathroom at home! You have a door to knock on…a person to talk to (the one in the mirror)…a curtain to pull (the shower curtain)…and a sink to wash your hands. Give it a try (when you are alone, of course!).
Remember to read the care plan before you begin the opening…you have to know what task you are supposed to do and how to do it!
Let's see if you learned the important points of this lesson! No pressure! If you don't score well, review the material and try again!